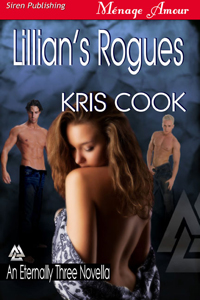 Lillian's Rogues
Eternally Three Novella Book 2.5
Though Lillian Devereaux would enjoy being back in her jeans drinking coffee at the corner café, she must do her job. Naked under the ancient robe, she walks to the cell where the Conclaveís two immortal prisoners are kept.
Renoís new immortal life sucks. Day one, heís captured by cult followers. When he sees Lillian entering his cell, everything about her, much more than his chains, holds him hostage.
Titus has been imprisoned by the cult for centuries. The moment he spots Lillian, primal hunger rises up inside him. Still, his ancient hate wonít go down without a fight, despite his growing desire for the new high priestess.
Lillian performs the seduction ceremony on Titus and Reno, and cravings take hold of all of them. Will the threesome let hate pull them apart or despite the evil pursuing them, will they hold on to their new love for each other?
What's your favorite eBookstore?
Amazon | Barnes & Noble | Siren Bookstrand | Kobo
---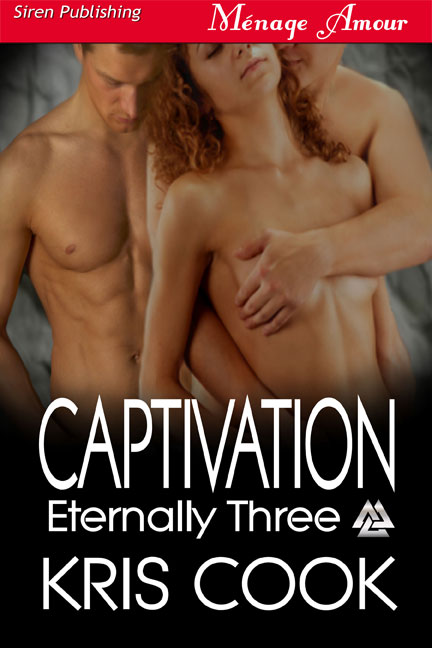 Captivation
Book 2
Though tripling is necessary for immortals to survive, warrior angel Kronos doesn't want to share Eve Rousseau. When she slips away undetected, his guilt multiplies. He swears to find her before itís too late.
Eveís rescue from a band of demons ends in captivity. The immortal warriors say itís necessary for her safety, but she doubts their motives.
Jinn commander Nash is rewarded for rescuing Eve from the claws of the monsters. Heís assigned to identify which two immortals can activate her dormant bloodline magic. But being near her ignites something inside him that he doesnít understand and canít snuff out. All he can think about is bending her to his will and providing her with pleasure.
Eve wants nothing to do with the invisible world, including Nash and Kronos. Will she fall victim to the evil pursuing her, or will she finally surrender to love?
What's your favorite eBookstore?
Amazon | Barnes & Noble | Siren Bookstrand | Kobo
---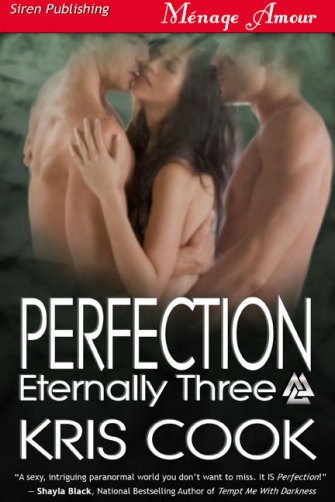 Perfection
Book 1
While searching for her missing brother, Micki Langley visits a nightclub with a notorious reputation as ménage a trois central and comes face-to-face with two amazing men straight from her fantasies.
Ancient jinn Jared endures heavy guilt and wants nothing to do with the human girl. Tripling is necessary to keep immortals alive, but his hunger for Micki is far beyond normal.
Though warrior angel Bradley completes their threesome, he despises Jared for his tainted reputation. He vows the jinn won't hurt the gorgeous human and has no problem fighting him to prove it.
But when the threesome comes together, they share more than an exchange of energy, they share an unshakable bond that generates astounding power. Their enemies seek to destroy their perfect triad, which could unsettle the balance of power between angels and demons. Will the threesome be able to stand strong together - in trust and love - to defeat the relentless evil?
What's your favorite eBookstore?